I didn't get to do this post last month because of my Black History Month topic last month, so I'll pick up this month!
BEAUTY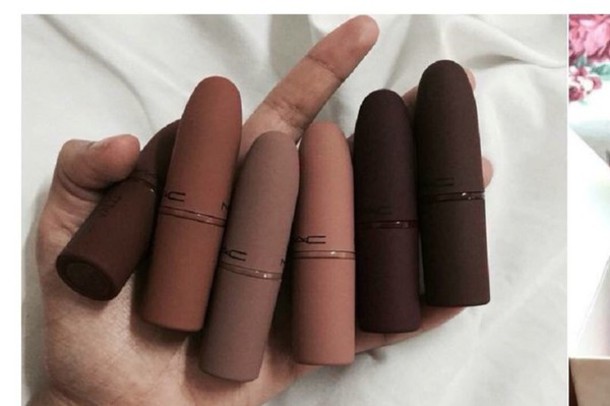 Brown Lip Colors & My New Big Bald Head
Brown lip colors have been so addicting at the moment. Probably because it's an obvious trend throw back to the 90's of days when celebrities like Jennifer Aniston, Jennifer Lopez, Drew Barrymore and many more could be found rocking the dark lip anyday. I remember my mom having so many different shades of brown and red brown lipsticks! One of the first lipsticks I remember stealing from her makeup box (Sorry mom...,) was actually a liquid matte brown! Which thinking back now, was so long ago for the liquid matte lipsticks being such a huge trend now, like it was new or something.
Also, yes I did it finally. I've had a a shaved head now for a few weeks now, and I'm so happy with it. My mornings take so much less time when it comes to getting ready. My showers are shorter since I don't have to wash my hair for like 20 minutes like before. I could go on forever about it, but I'll just say I LOVE IT, IT MAKES WEARING WIGS EASIER, AND BEING BALD IS FUN.
FASHION
Baseball Caps / Hat Patches and Buttons
I've seen tons of hats like this from so many clothing and accessory companies recently. The baseball cap is definitely a really big trend at the moment. As someone who wears hats every day of their life, this fits to my tastes very very well! Specifically hats with cute patches, embroidered designs, or buttons on the front are what I'm seeing a lot of. UNIF put out a whole line of baseball caps with little fruit embroidery on the front of each one, also different color caps to go with whatever fruit is on the hat. I've seen a hat similar to the UNIF ones at PacSun (wonder where they got the idea.......) I've taken to thrifting different caps, and putting patches / buttons on them myself to create one of these designs myself!
INSTAGRAM
I've been SOOOO obsesesd with this Tomboy Style page on Instagram. Tomboyish style is something I love so much, and I have my tomboyish days for sure, but it's really been taking over my entire style, and it has a lot to do with this Instagram page.