"
My latest painting "Make America Great Again"
Because no matter what is in your pants, you can still be a big prick.
Meet Illma Gore, the brilliant artist behind the infamous painting of Donald Trump hunched over with a micropenis, that has swept the face of the internet within the last couple of months. I've been following following Illma's instagram for quite awhile now, because of her Human Canvas project (I'll get to that in a minute,) and when this piece of Donald Trump started circulating, and finding out Illma was the one responsible for it, it made me sooooo happy! The illustration has cause quite a bit of controversy, and in turn social media pages like Facebook, Twitter, and even eBay have tried to censor and ban Illma and those who are sharing the image from their internet platforms. Watch Illma's response to these internet powerhouses trying to censor her art, below!
"There is something absurd and beautiful about having absolute strangers' names draped over my pale goth skin, even if half of them are 'Penis Butt'. Why, you might ask? Simply because I can. I am my own ultimate canvas."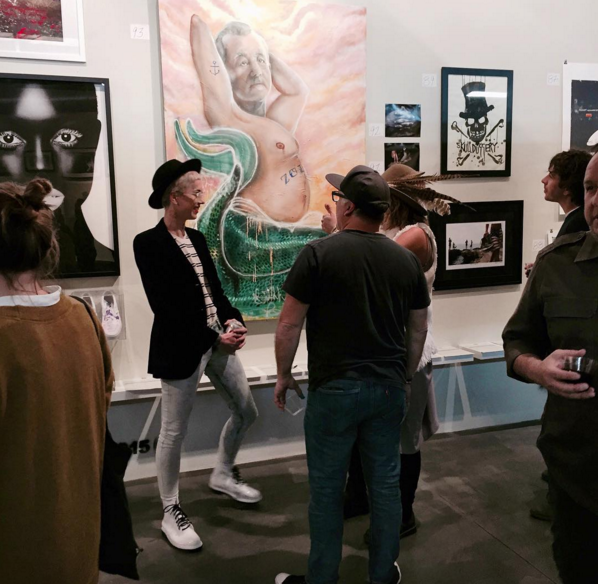 I first came across Illma when I heard about this artist who was getting people's names and stories tattooed on her body for just $10 through her Human Canvas GoFundMe Page. Through this gesture, people just donate at least $10 and submit what name, nickname, phrase, etc they would want tattooed on her body. Illma has had live tattooing exhibitions of her having these submissions tattooed on her. I'd love to add to her tattoo project! She's inspirational, she won't backdown, even when threatened by Facebook to be taken to court, to defend her art, and free expression.
LA Weekly has said "Artists like her make life beautiful. Well, more beautiful than life is... Without people like her, we would have no creativity in this world."