Miryam Lumpini the self titled "Swedish Elf" with Congo Blood, insanely talented and very well established tattoo artist who is now based out of Los Angeles, California! Miryam was a young artist who wanted to find a way to make money off of her art, but if you're a small time artist as she was at the time, you know it's tough to make a ton of money off of just selling your art, unless you're widely known, and well established. The idea of tattooing came to her! The only problem with that, was that she was just 17, and nobody would tattoo her obviously, let alone allow her to tattoo them. So, 17 year old Miryam took to purchasing her own tattoo kit online, and began tattooing friends of her's, and allowing them to tattoo her.
"I was like 17 and we were just a bunch of punk ass kids getting wasted every weekend and tattooing each other- all my tattoos looked like shit."
So her next goal was to find someone who was in need of an tattoo apprentice, and once she was connected with an artist, only for it to turn out to be a shady situation, that ended up being a bust. She talked to her boyfriend at the times' tattoo artist, and he saw so much potential out of her, and offered her a new apprenticeship with him. It worked out very well, and she worked under him for about 3 years! She participated in her first tattoo convention, ended up winning 2nd place in Best of Show for a piece she did on a friend at the convention, and was on the cover of Nordic Tattoo magazine, all at the age of 20!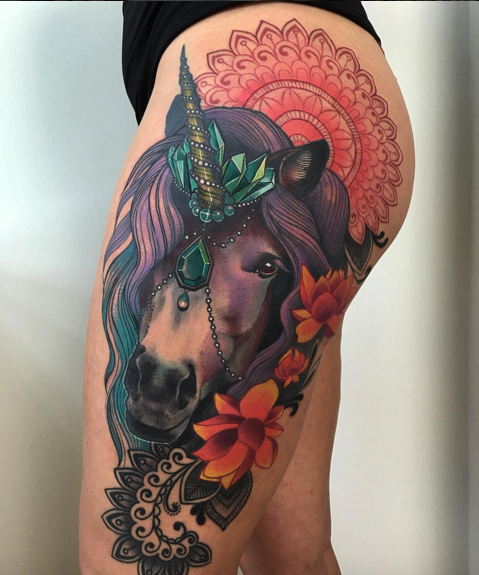 During her apprenticeship, was also designing posters for Emmaboda Festivalen music festival, because she's also an amazing painter on top of all of this other talent this queen holds. I could really go on forever about her accomplishments and milestones. Her upbringing and experience starting all the way back from when she was living in Sweden, with a single mother, chopping wood, and living a frugal life. This girl's got thick skin, and that has really taken her a very long way, which is so inspiring. As an artist, that's the kind of personality you have to have, and being a female in a male dominated industry like the tattoo industry, she's very much well equipped for the job.
Reading her story has really really inspired me to begin making art again, and makes me want to push myself to start being creative again, before I lose the drive to!
XO
MELANIE